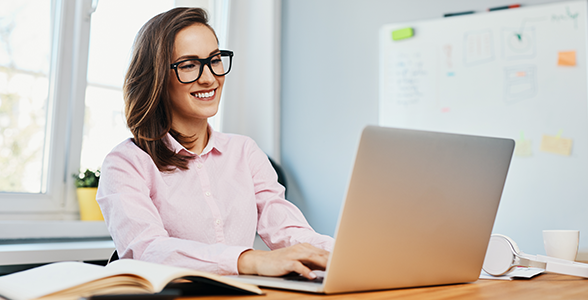 Tools to help you when face-to-face isn't an option
Sometimes you can't meet with potential clients face-to-face, but that doesn't mean you can't help them. Securian Financial is here for you and your clients when digital is the answer:

eApp

Provides you an easy way to complete your client's application online, anytime, anywhere

Allows for you and your clients to electronically sign with applications

Ensures your clients' applications are in good order1, increasing your productivity so you can close business quickly
Learn more about our dynamic eApp process ›

WriteFit Underwriting™

Is a less invasive underwriting option for your clients that doesn't require an examiner to visit their home

Uses the tele-interview process2
Gives you and your clients underwriting decisions in as little as 24 hours3
See how submitting business with WriteFit4 is easy ›

ePolicy Delivery

Helps you get your clients life insurance coverage fast

Provides you and your clients with a completely paperless experience with electronic signatures

Allows for life insurance policies to be signed, sealed and delivered in 7 days
View our ePolicy Delivery FAQ to learn more ›

Drop Ticket℠

Offers your clients with quick and easy application for individual term insurance

Ensures your clients' applications and delivery requirements are in good order

Is a completely digital experience when paired with eApp and ePolicy Delivery
Learn how Drop Ticket works and to see additional benefits ›

DocuSign®


Don't forget, DocuSign® is also an option for electronic signatures. To learn more about how you can get set up with DocuSign,

view our FAQ

or contact your case manager.

1. Applications in good order are dependent on accurate input entered.
2. Information from tele-interview helps determine whether client qualifies for WriteFit Underwriting.
3. After completion of the tele-interview. For eligible clients.
4. WriteFit and WriteFit Express are available under our WriteFit Underwriting program.
Life insurance products contain fees, such as mortality and expense charges (which may increase over time), and may contain restrictions, such as surrender periods.
These materials are for informational and educational purposes only and are not designed, or intended, to be applicable to any person's individual circumstances. It should not be considered investment advice, nor does it constitute a recommendation that anyone engage in (or refrain from) a particular course of action. Securian Financial Group, and its affiliates, have a financial interest in the sale of their products.
Insurance products are issued by Minnesota Life Insurance Company in all states except New York. In New York, products are issued by Securian Life Insurance Company, a New York authorized insurer. Minnesota Life is not an authorized New York insurer and does not do insurance business in New York. Both companies are headquartered in St. Paul, MN. Product availability and features may vary by state. Each insurer is solely responsible for the financial obligations under the policies or contracts it issues.
Securian Financial is the marketing name for Securian Financial Group, Inc., and its affiliates. Minnesota Life Insurance Company and Securian Life Insurance Company are affiliates of Securian Financial Group, Inc.
For financial professional use only. Not for use with the public. This material may not be reproduced in any form where it would be accessible to the general public.
View this email as a

web page.
Manage your preferences for future marketing communications or unsubscribe from our Individual Life, Individual Annuity and Retirement Plans marketing emails by visiting our

profile center.
We respect your privacy. We will not release your email address for any purpose.